I hit Big Lots today in search of a line of makeup brushes I saw reviewed on YouTube by
EmilyNoel83
and Raine. They didn't have the exact brushes that were reviewed, but I think I did pretty well. Two new makeup brushes for $2.
One brush was a baby kabui face brush by Studio Basics and the other a concealer brush by Essential Tools. Although these are different brand names, they both belong to the same mother company,
ParisPresents.com
. They also make a line of eco makeup tools, although I haven't seen that one in a store yet.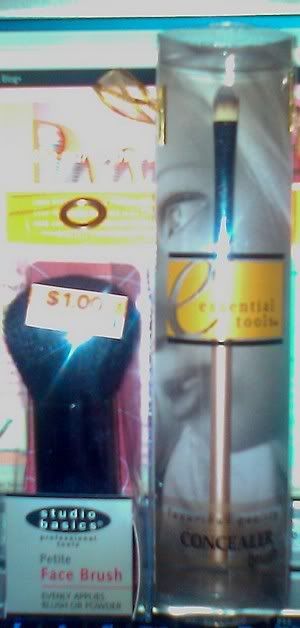 Both of these bear a STRONG resemblance to the
Essence of Beauty
brush line that is carried exclusively at CVS, for a fraction of the price.
The baby kabuki is natural hair and feels just like my goat hair kabuki. The concealer brush is stiff but soft and is synthetic. Definitely a steal. Not all Big Lots will carry these, but swing by the makeup aisle just in case.