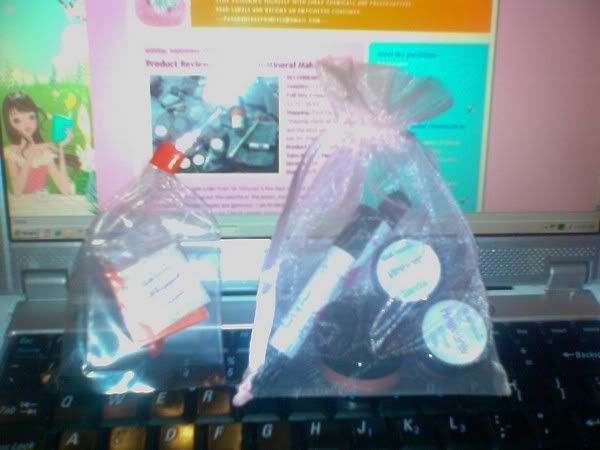 Got got my second
Silk Naturals
order in today! My order came in a cute silk drawstring bag along with another baggie of samples. Again, my shipping was just $2. Rock on!
My purchases include:
Nars Orgasm dupe
full size blush, a
MAC Stereo Rose Mineralize Skin Finish
dupe sample, a
MAC Viva Glam V lipstick
Kisser Slicker dupe, and a
Sherry Warm Peachy Bronze
Kisser Slicker.
Extra samples include: a Full Size Vineyard eye color - it's new so not on the website yet, nice smokey plum. A little baggie of
Whipped Cream
eye color, a little baggie of
Lovelace
(Nars Deepthroat dupe), and a swab of
Tender
lipstick. I think I had all of these samples in my cart at one time or another but didn't buy them in the end. Makes me think they know what you were thinking of buying and are tempting you further with samples. No complaints from me!
Lippies:
Ingredients: Organic

Castor, Avocado, and Jojoba Oil, Beeswax, Candelilla Wax, Caranuaba Wax, Mica, Titanium dioxide, iron oxides, carmine, flavor
Save 5%
when you use the 'Friend' code at checkout on your first order.
Special offers for September:
Orders over $5.00 get a free bag of samples- there's a lippie sample, an
eye shadow
sample, and a blush sample baggie. You can keep them all to yourself, or share them with a friend!
Orders over $20 get a free LE eye shadow called Vineyard, and the bag of samples. It's a light, shimmery smokey plum with hints of blue, as well as green and tan shimmer. Vineyard was inspired by the grape harvest here in the Finger Lakes, and it's beautiful. It's a sophisticated dress up color that I like with green liner (Grassroots Green is my favorite with it- but they all work pretty well).
Orders over $40 get the samples, Vineyard, and a free eye shadow color of your choice!