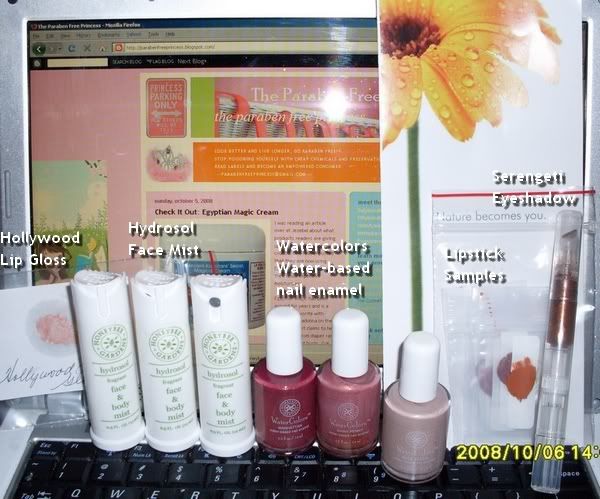 Just received my mini haul of clearance and samples from
Honeybee Gardens
. I did a
'Check
Them Out' post
about them a few days ago.
I ordered lipstick samples, eye shadow stick, nail polish and face mist. I am very impressed with all of their products. My pick out of this haul would have to be the clearance bin nail polish. It is water based and has amazing color. Let me take you through the goodies.

Hydrosol Face mist
. This has a nice herbal-citrus fragrance and feels very soothing on the face. Clearanced at $.99.
Hollywood Lip Gloss
. This is a sample swatch I requested. Nice peachy-pink, Nars Orgasm type color to it. $8.99.

Serengeti Eyeshadow Stick
. Swatches below. Nice bronze color. Very dark, rich, and metallic. The color is great, not crazy about the applicator. It is the standard lipgloss screw up wand. It goes on smooth, but it is a bit hard to blend because it dries so quickly. Clearanced at $2.99.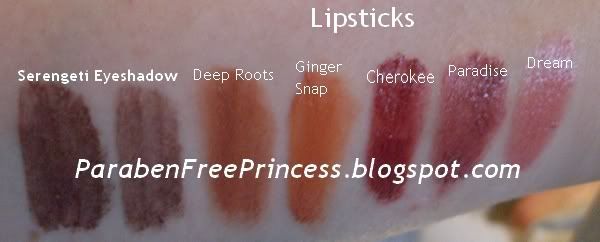 Lipstick Samples
. Swatches above. Deep Roots, Ginger Snap, Cherokee, Paradise, Dream. The samples are slivers of actual lipstick. These colors are rich and gorgeous. Very pigmented and a dab will do you. Soft and moisturizing. I am impressed. Samples $.50.
Watercolors Nail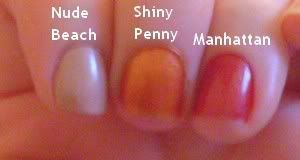 Enamel
. From the photos on the website, I thought they would be mini bottles, but they are the standard .5 oz polish bottles. This polish comes off with alcohol. No nail polish removed needed! These really do have NO odor to them. I kept sniffing the bottles like an idiot. I couldn't believe that a nail polish didn't have a smell. Back in my OPI Zombie days, I would gack on the awful stench of their products. The enamel goes on smoothly and dries very quickly. I did two coats as recommended. If you are a decent hand at putting on polish, you could make due with one coat. In Clearance as part of an oops batch. $1.99.
Nude Beach
is a very matte beige color. A perfect neutral color without being to light.
Shiny Penny
and
Manhattan
both have some sparkle to them. Penny is a copper metallic that lives up to it's name. Manhattan is a dark ruby color. I don't know how well these will wear, but the color alone gets a 10 out of 10 from me.
I plan on going back for a serious haul once I have enough in the Princess Fund again.