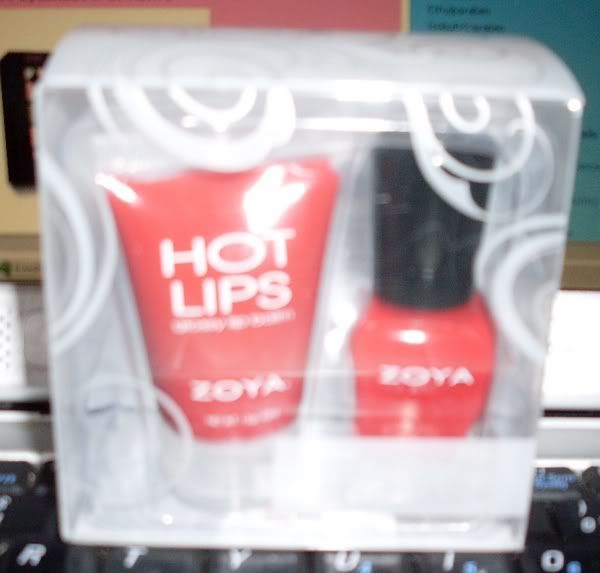 Now that the VP of Art of Beauty has convinced me my lips won't fall off if I use their products, I am posting a review of their Color Cube. The set I purchased was 'Red-E-Go' which contains a .25 oz nail polish in 'Diana' and a .42 oz (12g) lip gloss in 'Disguise'. Both are fire engine red. $8.

The Color Cubes come in 6 different color combinations. This is a great way to try the Zoya products - and as stocking stuffers.

The Hot Lips gloss has a pleasant berry smell. It is very thick, but not sticky. The first couple of squeezes came out clear. I think would work better on top of lipstick than as a standalone product. The color tends to slide to the outer edges immediately after application, as you can see

from the photo. However, if you have very dry lips, this could be a good gloss for you. It's so thick, it will hang around for a long time.

The nail polish is standard but has very rich color. I was able to get complete coverage with one coat. It's a great shade of red. Unfortunately, it always photographed orange on me, so there's no point in posting a pic. Overall, a definite thumbs up. A great alternative to Paraben-filled products out there.