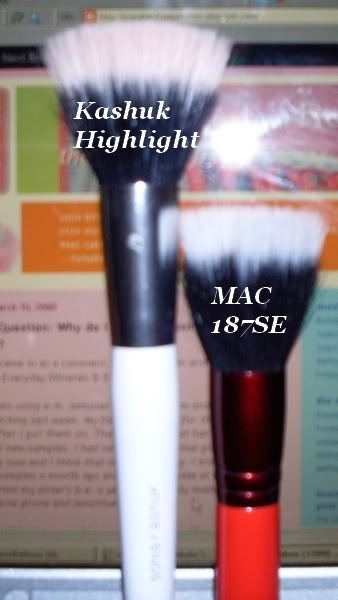 In the past month, I have saved my pennies and picked up two of the Sonia Kashuk brushes I keep hearing
so many good things about. Plenty of uses and washing later, I am ready to review them.

The two I purchased are the 'Highlighting' or skunk brush and the flat head blusher brush. Sonia's products are exclusive to Target.

I purchased Sonia's skunk brush after being disappointed with my MAC Adoring Carmine Special Edition brushes. Sonia delivers where the 187SE fails. Sonia is a full size brush with a slighter larger and thicker head, but side-by-side, they look identical. I lost a couple of hairs the first time I washed it, but nothing since. Shedding was my major complaint about the MAC brush.

I use my skunk mostly for blush and highlighting powder. The pink tinge you see in the photos is the blush. I used it before I remembered I needed photograph it.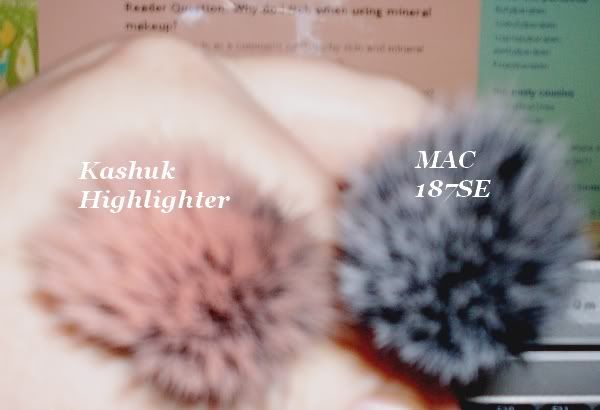 I can't say enough good things about this
brush, worth every penny and more. I can't believe a brush this nice is so inexpensive. It has held up through dozens of uses and I wash it twice a week. Like new. These are considered a 'unicorn' product since they are so hard to find in stock.


Sonia Kashuk Highlighting Brush

Grade:
A+

Price:
$12.99

Location:
Target

Pros:
Super cheap, high quality

Cons:
Hard to find, why did I wait so long?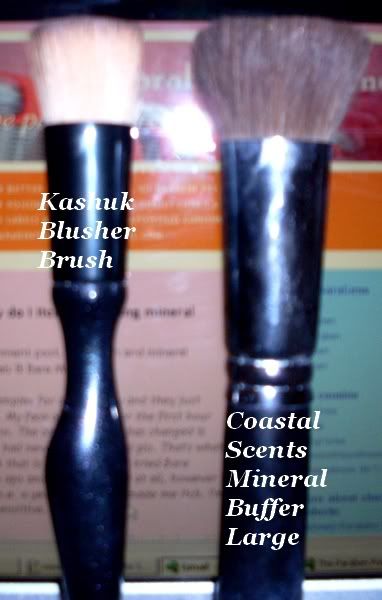 The second Sonia brush is called a blusher brush. I bought it specifically to use with my mineral makeup. I have been using a flat top makeup brush from Coastal Scents. The Coastal Scents brush was only $4 and natural hair, but a bit to scratchy for me - and it always smells like wet dog butt when you wash it.

I was loving the Sonia brush before I used it and the love affair continues. I use this and the
skunk every day I wear makeup and it has held up wonderfully through all the use and washings. It is synthetic and has a flat head.
I don't know how they managed it, but the synthetic feels much softer than real hair. It has a small, tightly packed head that gives a lot of control and lets you get into all the nooks and crannies without having to dig in. Something else I noticed is that it doesn't give you a dust cloud of mineral makeup if you pick up too much. That is a complaint I have about other flat top brushes I have used.

Between these Sonia Kashuk brushes and my Loewe Cornell Maxine's Mop brushes, my set is complete. But, I will continue testing brushes because you just never know...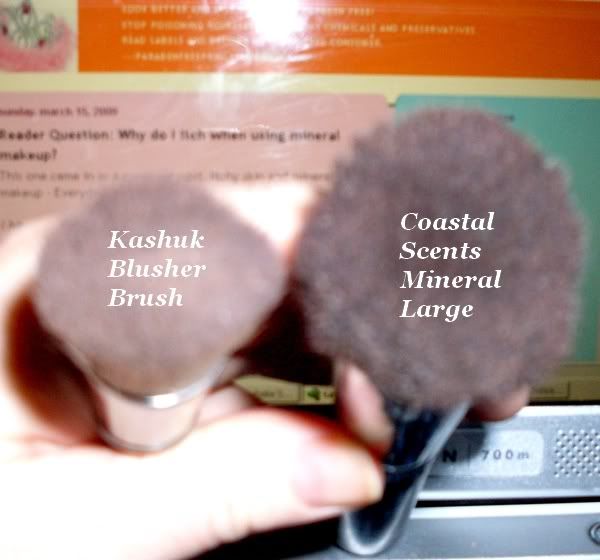 Sonia Kashuk Blush Brush

Grade:
A+

Price:
$14.99

Location:
Target

Pros:
High quality, super soft, no shedding at all.

Cons:
Comes in a hard case that will scratch the brush handle if you use it for storage.