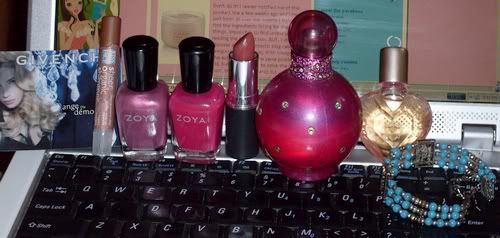 Okay, one more post before I start working my second job. The past few weeks, I have been trading makeup, perfume, etc. with folks on Makeup Alley. If you aren't familiar with the site, check it out. They have thousands of product reviews and lots of nice folks who like to trade this for that. It's a virtual beauty swapmeet. I've been a member since 2003, but never thought about trading until I started having problems finding the Paraben Free products I read about on other sites. My experience has mostly been positive. Only had one problem swapper who sent me expired items I had to throw out. This is my haul from two other traders.

Sample - Givenchy Ange ou Demon perfume sample. Always curious about it, but haven't broken into it yet.

New Kiss My Face Sheer Organic Shimmer in Topaz. This is just like the Burt's Bees products without such a strong peppermint kick. This does have peppermint flavor, but they tuned it down with vanilla and chocolate. Flavor free, anyone?

Zoya Nail Polish in Susanne and Sachi. Think I will like Susanne. Sachi is a bit hot pink for me.

Bare Escentuals / Bare Minerals Mineral Lipstick in Generosity. Cleaned it well with alcohol. Nice color, smooth. Like the tube. Surprised.

Britney Spears Fantasy - Well, I was 'curious'. Har-har. Seriously, one spray and this was gacking me. I felt like I was being suffocated in it. It finally died off after a couple of hours. Really cute bottle, though.

Kathy Hilton Perfume - This is an extra that a trader put in my box. I thought 'Hilton, ew'. The stuff under Paris' name is just awful. Believe it or not, this is the best perfume trade I have made in a while. It is nice, classy and hangs around for a long time without being overwhelming. Color me su-prised!

Wire Turqouis bracelet - I really didn't want this, but a trader really wanted one of my items, so I swapped for it. This is another favorite trade as well. It hugs my wrist perfectly and makes me feel exotic. LOL. It's crazy how the things I really didn't want end up being the ones I like the most!