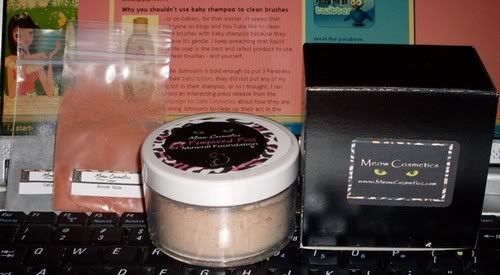 Received my first product from Meow Cosmetics today. They were having a free shipping sale about a week ago so I finally bit. I was always a bit put off by the extensive variety (sometimes too many choices are a bad thing) and crazy cat names for their products, but that is their hook.

This is a huge 30 gram jar (jar is 85 gram size, 30 grams of product). I bought the 'Pamered Puss' variety that is for sensitive skin in '2-Frisky Chartreux'. Ingredients: Mica, Titanium Dioxide, Zinc Oxide, Iron Oxides. It was $23.95 shipped with two samples thrown in.

I thought it would be interesting to show this compared to an Everyday Minerals container. The EM is 8 grams of product ($12), Meow is 30 grams of product. I hope my skin likes this foundation, that's quite a bit to get through! LOL.