I've been sitting on my cranky for a couple of weeks. I have gone through a string of products that I purchased and have been using that disappoint or are flat out fails. I have learned some important lessons about not believing all the reviews on product sites and try before I buy.



Mascara:
Physician's Formula Organic
($9.00) vs.
Tarte Lash Hugger
($18)


Ingredients for both are on linked sites above.

I have been using the PF Organic mascara exclusively since it came out. I love it and my lashes are in better condition now for using it. My tube is starting to dry out a bit and I had been reading great reviews for the Tarte mascara, so I decided to try their brand, at twice the cost.

The PF Organic is definitely the winner for me in this contest. The Tarte mascara is very blase to me, especially for the price. I have a hard time actually getting this mascara on my lashes. I don't know if it is the twisted brush or the product itself. It takes three times the strokes to get the same amount of product on as one stroke of the PF Organic. Acceptable to some people, but not when I am trying to get out the door in the morning. The mascara itself darkens and lengthens but does not build the lashes. It wears off throughout the day so that when it comes time for face washing, there is very little left. I don't see any mascara flakes, it is just gone. Tarte has lots of great reviews over at Sephora, but it was substandard for my needs.


PF Organic Pros:
Acceptable price, gorgeous container, good brush, thick product, couple strokes needed for full look, lasts all day.
Cons:
Need to use makeup remover (I use oil), spots on lids, smears if wet, never actually 'dries', product seems to dry out faster than conventional Paraben-ated mascara.


Tarte Lash Hugger Pros:
Good at lengthening, easy to remove, did not spot or smear on me.
Cons:
Pricey, does not thicken, time-consuming application, fades throughout the day.


Shampoo:
Esencia by SAMY($8)
Ingredients on above website.

I hauled this back in March and finally got around to using it. It was free after rebate from Walgreens. I did receive my rebate on it, so that pleased me. I love the bottle design on this. Very sturdy and that cute ball head that pops up. The shampoo itself is just meh to me. I am halfway through the bottle and put it back in the closet. I am now back to my hair miracle Aloe 80 again. A couple days after I started using Escencia, I noticed that my hair was more difficult to comb out after a shower. By the end of the week, it started getting matted again and I had to spend precious early morning minutes working out the tangles. Esencia claims to be 96.3% natural. Must be something in that 2.7% that my hair really hates. Not many reviews around the web for this. Most everyone was talking about how it was free. You get what you pay for.


Esencia Pros:
Low lather, smells nice, cute bottle, was free.
Cons:
Regular price a bit steep, my hair hated it, accompanying conditioner contains Urea.



Mineral Foundation: Meow Cosmetics (23.95)

Pampered
Puss
: 2-Frisky Chartreux Full Size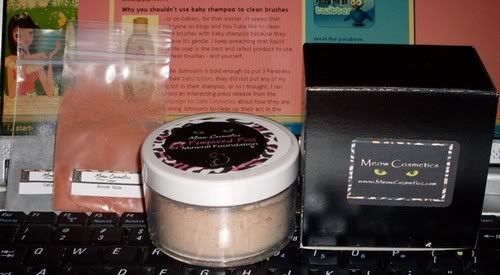 Remember that haul I did a couple weeks ago on that giant container of Meow foundation? Hated it! Really banging my head against the wall on this one. $24 down the drain. I will be posting this on MakeUp Alley and hope that someone will want to trade me for it. I'm instituting a $5 rule. If something costs more than $5, I am going to buy a sample first. No more buying blind. Meow doesn't take returns. Lesson here: try before you buy. Don't listen to great reviews.

The product itself is standard mineral foundation. I tried it twice and did not cause any itching or irritation. The product is almost a perfect match for my skin color. I am very pleased with Meow's ability to create product that close to true skin tone. My complaint about this foundation is that it doesn't provide any coverage. None at all.

The variety I purchased was the Pampered Puss for sensitive skin. It is supposed to provide 'medium /heavy layerable coverage'. I put on 3 layers of it and I still looked bare faced - with powder on. This is great if you have perfect skin, but if you have anything at all to hide, it's worthless. After 3 layers, I still had to go back and dust on a layer of Ev
eryday Minerals (which can make me itch) and that gave me the coverage I wanted. Just baffled and aggravated. It was like putting air on my face. This might work well as a finishing powder, but I certainly wouldn't recommend a Meow product as a foundation.


Meow Foundation Pros:
Good price for a lot of product, easy to match skin tones, powder feels lightweight.
Cons:
Lack of coverage - buildable or any other kind.